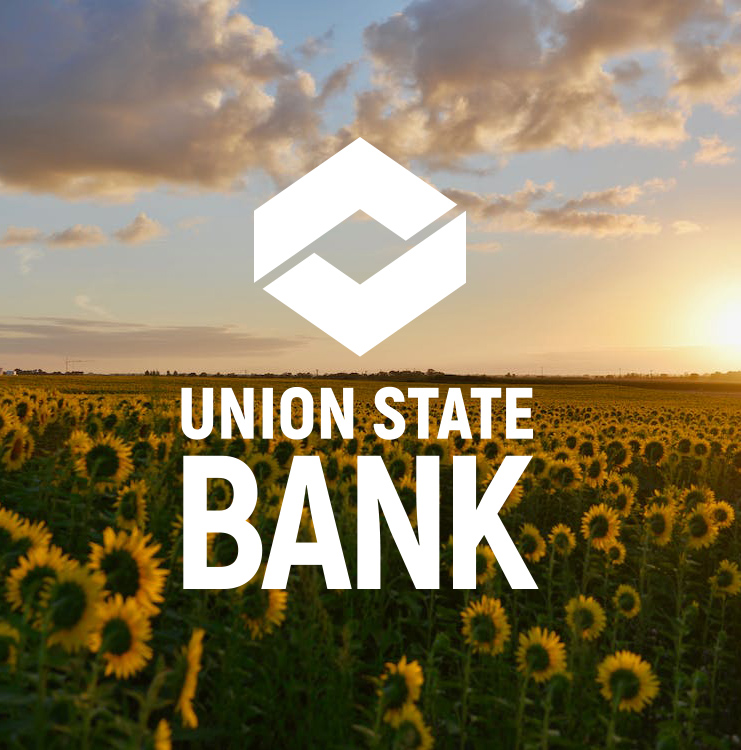 Rooted in a Shared Local Vision
At Union State Bank, we've always been about the people and the communities in which we operate. We believe financial decisions are best kept close to home, and what's best for the community is at the heart of everything we do. Our leadership team demonstrates what these beliefs mean every day, across the little things and the big things. Take a moment to get to know our Union State Bank leadership – and know that you are always welcome to stop in and say hello at any of our locations.
Jeff Caudle, Chief Executive Officer
Alana Neale, Executive Vice President
Amy Potts, Chief Operations Officer and Cashier
Lennie Herman, Chief Lending Officer
Stacie Henry, Chief Finance Officer
Hillary Boye, General Counsel 

Meet Jeff Caudle, Union State Bank CEO 



Jeff began his career with Union State Bank in 1993, serving as one of five original staff members of the bank's first branch operation in Atchison.  He had worked as a summer intern in Everest and has held several positions, including roles in commercial and real estate lending and supervision—as well as EVP and Chief Strategy Officer—prior to being named CEO in 2019.  During his Union State Bank career, Mr. Caudle has been an active participant in strategic developments that led to significant asset growth.  He also serves as Vice President of the bank's holding company, Everest Bancshares, Inc.

Jeff is a 1990 graduate of the University of Kansas with a bachelor's degree in business, with emphases in accounting and business administration.  He received his Executive MBA degree from Benedictine College in 1999.

Jeff and his wife Tracie and their two children live in Atchison.  Jeff's hometown is Bendena, where he was raised alongside his two brothers on a grain and livestock farm.  He enjoys partnering with his brothers and parents on farm investments to this day.  He demonstrates his commitment to the local community in many roles, including volunteer leadership, practicing and encouraging local investing, and making sure the bank's staff is always keeping the community's needs in mind.

Meet Alana Neale, Executive Vice President



Alana Neale is from Springfield, Missouri, and she brings 30 years of banking, business, and finance experience to Union State Bank.  Alana and her husband Mike live in Parkville, Missouri, along with their son and daughter. 

Alana began her career as an FDIC Examiner after earning a B.S. in accounting from Missouri State University.  She also earned her CPA license.  Alana previously served as Chief Financial Officer for USB, later rejoining USB as Executive Vice President.  Her role entails leadership on a broad slate of projects and committees, including information technology, facilities, and the Bank's strategic development.

"I was very excited about my return to USB and am enjoying working with the team again," Alana commented.  "I am proud to work for an organization that is focused on the future and doing the right thing for the communities, customers, and employees."
Meet Amy Potts, Chief Operations Officer and Cashier




As Chief Operations Officer and Cashier, Amy Potts leads the bank's deposit operations team and is responsible for the deposit products and services offered.  "It is important to us that we offer our customers the products and services they need to simplify their lives," Amy said. "We strive to deliver friendly, personal service for each of our customers."

Amy was born and raised in Northeast Kansas.  The majority of this time was spent on a small family farm outside of Bendena, in Doniphan County.  She currently resides in Lancaster with her two children that attend Atchison County Community Schools.  Most of her free time is spent with her children and family attending various sports and activities.

Amy earned an undergraduate degree in business administration from Missouri Western State University in 2004, earning her MBA degree from Benedictine College four years later. She started working for Union State Bank in 2000 after graduating high school and beginning work on her degree. She has held several bank positions through the years, and she believes each one prepared her to contribute to the bank's mission.
Meet Lennie Herman, Chief Lending Officer



Lennie grew up on a small farm in southwest Kansas, where his family raised wheat, milo, and livestock.  He began his banking career in his hometown of Dighton, spending 26 years with a family-owned bank.  In 2008, he moved to Garden City and spent the next eight years with Western State Bank, another family-owned community bank.  Lennie was Senior Lending Officer for eight years, servicing agricultural and commercial customers. 

In November of 2016, Lennie came to Union State Bank as Chief Lending Officer for the Missouri branches; a year later, he was appointed Chief Lending Officer for all Kansas and Missouri locations.  As CLO, Lennie Herman helps ensure the people and enterprises in the bank's area have the necessary capital.  "We pride ourselves on giving quality service in each of our communities.  My role is to make sure we mitigate any unnecessary risk to protect our depositors and the stockholders of the bank," says Lennie. 

Lennie received his bachelor's degree in business administration from Fort Hays State University.  Lennie and his wife reside in Smithville, Missouri, surrounded by most of their children and grandchildren.
Meet Stacie Henry, Chief Finance Officer



As Chief Finance Officer, Stacie Henry leads the Bank's finance team and is responsible for the accounting and financial reporting functions of the Bank.

Stacie grew up on a farm in Nortonville, Kansas, where her family has a corn and soybean farming operation.  It was there that she found her love for riding and showing horses.  She carried this love with her to college and joined the K-State Equestrian team, showing horses for the University while she was receiving her undergraduate degree in finance.  She went on to receive her MBA degree from Northwest Missouri State University.

Stacie started her banking career working for one of the fifteen largest banks in the country in an urban market.  After five years, she realized she missed her small-town roots and returned to more personalized banking.  She chose to leave a senior accounting position and moved into community banking.  After six years as Senior Vice President of Finance at Bank of Weston, Stacie had the exciting opportunity to join Union State Bank at its Atchison location, in a market closer to home.  She and her husband and two children reside in Nortonville.

 
Meet Hillary Boye, General Counsel



As General Counsel, Hillary Boye enjoys being involved with the bank at the employee level, including serving as head of Human Resources.  "I like being involved with the employees from the beginning of their time at USB, and I like getting to know the employees at all the branches," she says.  In addition to Human Resources functions, the General Counsel reviews and prepares legal documents, assists in mergers and acquisitions, and prepares and attends regular meetings of management/strategists, the board of directors, and the shareholders.

Hillary's hometown is Hiawatha, and she began her service with Union State Bank in 2014.  She has extensive experience in banking, business and finance, including 15 years as an attorney in private and public practice.  Hillary graduated from Kansas State University with an undergraduate degree in history, and from Washburn University with her J.D. 

She lives in Hiawatha with her husband, Noel, and their three children.  They enjoy a range of children's sports and activities.