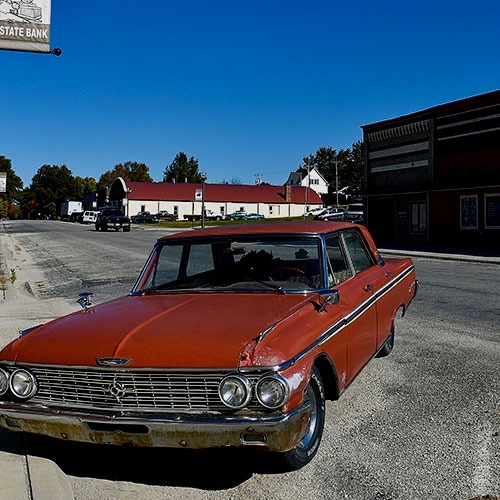 Union State Bank:  "Rich in Community," Since 1901
Founded in 1901, Union State Bank has a rich tradition of serving local families, businesses and farmers while always looking ahead to new opportunities. You can see this philosophy at each of our
eight locations
across the region, and many feature original historic details or photographs.
Today, we are proud to offer a personalized customer experience rooted in the local community while also featuring state-of-the-art technology. With a combined focus on progressive teamwork and community involvement, Union State Bank embraces the legacy of the past and the opportunities of the future.
We invite you to learn more about our history today, and then stop by any of our locations. You'll see how each branch embraces its local community legacy while serving customers in a flexible, one-on-one way.
Union State Bank History: The First 50 Years
"The Union Bank of Everest, Kansas, was chartered last week with a capital stock of $6,000. The directors are T.C. Honnell, George Andrews, F.F. Honnell and H.M. Means. Everest is a wide-awake, business little place, and her citizens are enterprising."

– The Everest Enterprise, August 7, 1901
Over one hundred years ago, a group of Everest citizens pooled their resources to create the Union State Bank. The name was chosen by Mr. T.C. Honnell, a former Union soldier, who was particularly fond of the maxim 'in union there is strength.'
Mr. Honnell was the bank's first president, and his tenure lasted until 1919, when Frank F. Honnell assumed leadership for a brief four-month period. Then, H.M. Means, a former teacher and school principal, as well as one of the original investors in the bank, took over the helm and navigated the bank through the next 25 years.
Mr. H.M. Means continued as president through the Great Depression and World War II, ending his tenure in June 1944. He was followed by Mr. Frank Todd, who merged the bank with the State Bank of Everest and moved the base of operations to the current Everest location.
Union State Bank History: 1950 to 1976
 "Old age is for man the sunset of life; but for a business enterprise it may be accumulated strength and experience that begets longer life. Such, we believe, is the commendable case with The Union State Bank of Everest…"

– The Everest Enterprise, July 26, 1951
Mr. Todd continued as president through the 50th anniversary of the bank, which coincided with one of the most prosperous decades in United States history. More Americans than ever before were finding it possible to own both a home and an automobile.
While the speed and mobility of society was rapidly increasing, Union State Bank's core values of honesty, sincerity and friendliness remained the same and continued to serve the people of the community well.
"A good bank is the backbone of any town. Everest has been fortunate in having continuous banking facilities through the years."

– The Everest World, May 4, 1972
In 1955, a long-time employee of the bank, Mr. Roy A. Ruth, became president. It was a family affair, as his wife, Emma, served as vice president and their son, Robert Ruth, was elected to the position of cashier at the same time. The Ruth family faithfully owned and operated Union State Bank until 1976, when it was sold to Everest Bancshares, Inc., which is composed of businessmen from Everest and the surrounding area.
Union State Bank History: 1976 to Now
"The crew at the Bank of Atchison certainly deserves a valentine from me. They always give me a friendly smile … For their understanding nature alone, they deserve something."

– Neal Combs, The Atchison Daily Globe, February 1, 2003
Under the ownership of Everest Bancshares, Inc., Union State Bank has solidified and expanded its operation.  In 1993, Union State Bank of Atchison was added to the fold.  In 2002, the Union State Bank of Horton opened and in 2009 we added Union State Bank of Gower in Gower, MO. In September of 2011, we welcomed Union State Bank of McLouth in McLouth, KS.  In 2015, we opened Union State Bank of Oskaloosa in Oskaloosa, KS, and Union  State Bank of Plattsburg in Plattsburg, MO.

In 2022, Union State Bank of Shoal Creek was established as a new branch in Kansas City, MO, expanding the bank's footprint to eight locations.
Still dedicated to the original principle "in union there is strength," all our branches share in a rich tradition of progressive teamwork and community involvement. It's a tradition we call "Rich in Community," and we look forward to continued progress and strength that remains focused on the unique communities we serve.
Union State Bank:  Rich in Community

At Union State Bank, we celebrate the balance between honoring our legacy as a community- focused bank and the responsibility we have to our customers to pursue new successes and opportunities to better serve them.
In 2020, Union State Bank created a new logo that captures the role of each local community bank, while communicating the consistent service customers can expect across all of our locations. Choosing the new look for Union State Bank included focus groups of both potential and current customers, as well as our internal employees. The new logo, called "Reaching and Rooted," 
captures the Union State Bank values – and also represents moving forward toward new opportunities. We will remain focused in offering our customers the most advanced banking tools and resources, without losing sight of the communities we serve.

We are all part of Union State Bank; we are all rich in community.